Decanter Magazine June 2012
On sale: Wednesday 2 May 2012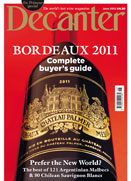 Bordeaux 2011: Decanter's expert team report from the en primeur tastings.
Interview: John Kolasa: Margaret Rand meets the outspoken head of Bordeaux's Rauzan-Segla and Canon.
Single-quinta Port: Richard Mayson explains why single-quinta Port can provide such incredible value.
Can China produce world-class wine? Just how good is Chinese wine, asks Ch'ng Poh Tiong. Plus reports on winemaking progress in Brazil, India and Russia.
Aussia young punks: Tyson Stelzer profiles six mavericks making great wine.
Vintage enterprise: Tyler Colman introduces a group of New Jersey winemakers whose average age is 85.
Producer profile: Casa Marin: Peter Richards meets the woman behind one of Chile's most extreme, pioneering wineries, on the windswept Pacific coast.
Sponsored guide to Margaret River: A guide to the elegant wines from Australia's west coast, and the names behind them.
Argentinian Malbec: 121 wines tasted, 3 Decanter Awards. Heavy bottles aside, Mendoza shone, particularly the elegant wines from the high altitude sub-region of Uco Valley.
Chilean Sauvignon Blanc: 80 wines tasted, 2 Decanter Awards. Judges praised the high-scoring wines from Casablanca, and the great value that Chilean Sauvignon Blanc can offer.
Expert's Choice: French Biodynamic Wines: 18 wines with a real sense of terroir, thanks to minimal intervention in the vineyard and cellar, chosen by Isabelle Legeron MW.