Decanter Magazine July 2012
On sale: Friday 1 June 2012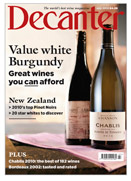 Good value white Burgundy alternatives:For value, Stephen Brook seeks out top-name whites from lesser appellations with similar taste profiles - and quality - to the grand crus.
Vintage report: NZ Pinot Noir 2010: Quality is well above average, says a particular enthusiastic Bob Campbell MW, with some producers claiming it's their best-ever vintage.
Australia's top 10 white wine producers: Huon Hooke names his top Aussie white wine estates, from new and established names, large and small wineries.
Interview Michael Laroche: Margaret Rand meets the man who raised Chablis' profile, looking back at his career and asking what retirement holds.
Regional profile Cahors: A revival is underway here, says Ian D'Agata, who considers the future of France's Black Wine.
Ticking time bomb: Tyson Stelzer asks whether the move to print disgorgement dates on Champagne bottles is too little, too late.
Panel tastings: Medoc & St-Emilion: 51 wines tasted, 1 Decanter Award. No rival to the great Bordeaux vintages, these wines can still provide enjoyable drinking if you have any in your cellar.
Panel tasting: Premier Cru Chablis 2010: 182 wines tasted, 7 decanter Awards. Quality isn't always consistent, but the panel found plenty of affordable wines with lovely minerality.
Expert's choice NZ Whites: Margaret Harvey MW explores a wealth of aromatic whites beyond Sauvignon.
July Supplement: The Bordeaux 2012 issue
Photo story: Eric Boissenot is best known as a consultant to some of Bordeaux's top chateau. Here he shares another passion-photography.
Bordeaux news: Jane Anson rounds up latest from Bordeaux, including 2011 en primeur and an update on the new St-Emilion classification.
Is en primeur still working?:Elin Mcoy and Anthony Rose say no, going head to head with Sebastian Payne MW in a frank debate on this controversial topic.
Prices: how do the châteaux decide?Margaret Rand goes behind the scenes to reveal the complex process of setting release prices.
1982: 30 years on:Stephen Tanzer considers the impact of the 1982 vintage on Bordeaux wine styles, and chooses his favourites of the year.
10 châteaux to watch:Jane Anson and James Lawther MW have the whole of Bordeaux to choose from as they pick out 10 châteaux to keep an eye on.
East meets west:Jane Anson reports on the increasing number of Chinese entrepreneurs who are buying up Bordeaux châteaux.
Pomerol: a dirty business:The area produces some of the world's greatest Merlot. Pomerol love Ian D'Agata explains why the secret is in the soils.