Decanter Magazine August 2012
On sale: Friday 29 June 2012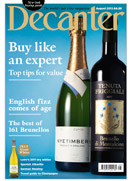 Buy like an expert: Anthony Rose and other experts share their top tips for seeking out value in wine – and the answers might surprise you.
English sparkling wine: There's no better time than an Olympic and Jubilee year for local fizz to find success, says Richard Hemming.
Interview: Emanuela Stucchi Prinetti: Stephen Brook speaks to the head of Chianti Classico's Badia a Coltibuono estate.
Vintage Report: Loire dry whites 2011: They might not be as racy as classic vintages, but Jim Budd says these rich whites offer good drinking for the short term.
Producer profile: Marques de Murrieta: Adam Lechmere visits the flagship Rioja producer and its new – yet still ancient – estate.
Wine's true colours: Does a pale salmon rose entice you more than one that's cherry pink? Ian D'Agata ponders why a wine's colour is so important.
Olympic wines: Anthony Rose tries the wines being served at London 2012 and matches each with a suitable sporting event.
Brunello 2007: 161 wines tasted, 2 Outstanding. In both modern and traditional styles our experts found commendable consistency, though no real superstars.
Spanish Albarino: 74 wines tasted, 8 Outstanding. An excellent result with 95% of wines recommended – and our judges urging consumers to let them age a few years to reap the greatest rewards.
Expert's Choice: German Riesling: A bigger and less concentrated vintage than 2010 but which growers still rate 'good' to be outstanding.