Decanter Magazine September 2012
On sale: Tuesday 31 July 2012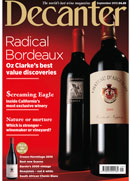 The new Bordeaux: Yes, it is possible to find radical good value claret. Oz Clarke talks up the reds of the less prestigious Right Bank appellations.
Vintage report: Barolo 2008: In a variable vintage, Tom Maresca recommends choosing the basic wines over the crus for immediate pleasure.
Interview Brent Marris: Rebecca Gibb meets the controversial founder of Wither Hills and the equally successful New Zealand brand The Ned.
Winemaker influence: Beverley Blanning MW asks whether it's the personality of the land or the man that really influences what's in your glass.
Wine on Sark: this tiny Channel Island balances, old-fashioned traditions with a very modern wine project, discovers Jane Anson.
Producer profile: Screaming Eagle: Few have ever tasted the wine, let alone been granted entry into the winery. Adam Lechmere managed to do both.
Cape Chenin's return This South African workhorse grape has a new lease of life thanks to producers who realise its potential, says Sarah Ahmed.
Crozes-Hermitage 2010: 67 wines tasted, 1 Outstanding: The basic standard is rising and, if you choose carefully, this is a fine vintage that wine lovers can buy with confidence.
Soave: 71 wines tasted, 4 Outstanding: Forget 'neutral, insipid' Soaves – these top-end examples are the ones you should seek out, says our expert panel.
Expert's Choice: Beaujolais: These are serious wines, says Rosemary George MW, and the past three excellent vintages show just why.