Decanter Magazine December 2012
On sale: Wednesday 7 November 2012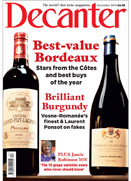 Jancis Robinson MW: 10 grapes you must try: Britain's veteran wine critic and co-author of a new book on the world's 1,368 wine grapes, picks the 10 that most amazed her.
Vintage report: South Australian Shiraz 2010: Could this be the best vintage in 20 years for Australia's foremost red grape? Tyson Stelzer reports.
Interview: Laurent Ponsot: Jeannie Cho Lee MW meets the counterfeit crusader helping the FBI bring to justice those selling fakes of his – and other - wines.
Producer profile: Grand-Puy-Lacoste: Steeped in heritage, this Pauillac fifth growth still moves with the times, discovers Jane Anson.
Champagne in wartime: Julian Hitner looks at how the region's winemakers carried on in the line of fire during World War I.
The best-value Bordeaux of 2012: A handy list of the clarets earning top marks – and top value – in our panel tastings this year.
Sponsored guide to Montecucco: Discover Tuscany's last unexplored wine region.
Vosne-Romanée 2010: 67 wines tasted: 4 Outstanding. Across both village wines and premiers crus, our experts' scores were remarkably consistent in this 'classic' vintage.
Bourg & Blaye 2009: 119 wines tasted: 0 Outstanding. Despite no top scores, our panel praised these value wines along with the 2009 vintage for its personality and quality.
Expert's choice: Sherry: There's never been a better time to try these wines, say Sarah Jane Evans MW.