Decanter Magazine: July 2014
On sale: Wednesday 4 June 2014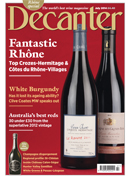 Australia: 30 under £30 from 2012 If one year shows Australia's embrace of terroir and style then it's 2012, says Nick Stock
Has white Burgundy lost the ability to age? Clive Coates MW recalls 1960s wines still vibrant after 20 years. But what has happened the longevity of whites made since?
Disgorgement As Bollinger RD 2002 arrives, Tyson Stelzer asks whether late disgorgement is better
See Tyson Stelzer's top 10 late disgorged Champagnes
How Champagne survived the Nazis Heroism and resourcefulness ensured Champagne's future after occupation during World War II, writes Julian Hitner
Regional profile: St-Chinian James Lawther MW finds consistency as well as variety in Languedoc's oldest region
See Jame Lawther's top 10 St-Chinian winesProducer profile: Château Calon-Segur As new owners usher in an era of openness, Panos Kakaviatos explores how the wine is faring
Crozes-Hermitage Matt Walls finds adventure and renewed excitement in this most New World of northern Rhône regions
See Matt Walls' top Crozes-Hermitage wines
The role of yeast Benjamin Lewin MW investigates the complex role that cultured yeasts play in a wine, and how they affect the final flavours in your glass
Côtes du Rhône-Villages 2011 & 2012 100 wines tasted, 1 Outstanding While 2012 trumped 2011, Cairanne took the bulk of the plaudits and a few lesser known crus also rated highly
Graves & Pessac-Léognan whites 2012 67 wines tasted, 0 Outstanding The crus classés and Pessac-Léognans fared best, although oak use in all wines came under scrutiny
Hunter Valley Semillon 76 wines tasted, 2 Outstanding Small producers shone as 11 vintages of this savoury and ageworthy style went under the microscope
Expert's choice: Bonarda & Torrontés Patricio Tapia looks to the fragrance of Torrontés and the perfume of Bonarda for his summer drinking
Weekday wines Our team recommends 25 great-value wines on the UK shelves, for under £20
Travel: Stellenbosch Art, wine & alfresco dining. Angela Lloyd acts as tour guide
Restaurants Brian St Pierre visits London House and Bibo, in London
Bordeaux at the tipping point The wines may be riper and better made but is the model sustainable, asks Benjamin Lewin MW?
https://default.secure.media.ipcdigital.co.uk/11150/0000083e7/10b8/Bdx-14-whats-in.jpgFree Bordeaux supplement:
Bordeaux's bright young things Bordeaux is in good hands as the next generation takes the helm, reports Stephen Brook
Sauternes & Barsac 2011: vintage report Stephen Brook finds that generosity of fruit, finesse and balance characterise this must-buy year
Interview: Jeffrey Davies Andrew Jefford catches up with the highly successful négociant and eternal optimist
Pessac-Léognan: digging for clues Andrew Jefford heads to the fields to discover what gives this commune its savoury fingerprint
Producer profile: Château Montrose Following ambitious investment, Jane Anson visits an estate that is embracing its inner eco-warrior
Michael Broadbent's 10 greatest Bordeaux Lafite-Rothschild, Haut-Brion, Yquem and Cheval Blanc feature in this, the ultimate Bordeaux top 10
Pauillac's pulling power Ian D'Agata says it is the human touch that accounts for the world's continuing love affair with this geologically blessed commune
St-Estèphe: on top form Diversity, character and value are propelling this determined region ever upwards, says James Lawther MW, who recommends some great 2011s
Second wines As the Bordelais quest for quality shows no sign of diminishing, Jane Anson asks whether the trend for second wines is good for the consumer
St-Emilion: finding the best value James Lawther MW cuts through the confusion to home in on those estates offering the best value as he explores this large and diverse region
Drinking windows: 1985-2005 Wondering what to open? Bordeaux expert Sebastian Payne MW assesses the drinkability of the great vintages between 1985 and 2005
St-Emilion: the best of the best The premier grand cru classé estates share with us the favourite vintages of their own wine since 1959
Living in no-man's land: a question of classification Margaret Rand discusses the contentious classification issue with estates stranded between cru bourgeois and classed growth
Dry whites beyond the Graves Dry white Bordeaux can be found across the region – including in some surprising areas. James Lawther MW highlight's some notable examples
Personal projects: a wine to call their own A trio of Bordeaux's finest winemakers tell Ch'ng Poh Tiong the tales behind their own wineries
Cooperage in Bordeaux: toasting success Margaret Rand discusses the subtle art of oak ageing with coopers and winemakers
Le Lion d'Or: a Bordeaux institution Bill Blatch visits the iconic restaurant that has hosted top wine traders for more than 30 years
Travel: Bordeaux city From the best restaurants to the top views, from music to markets, Haut-Bailly's own Véronique Sanders shares with us her cultural highlights
Subscribe to Decanter in print, on iPhone, iPod or iPad, or combined print and digital editions