Dom Perignon 2004 Champagne and food pairing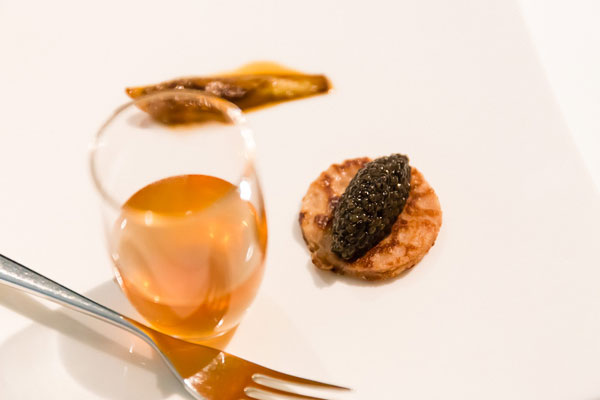 Chestnut crepe / Prunier Saint James caviar
The caviar's oceanic depth calls to mind the silver-grey opening, but it is denser and darker. The encounter with the melting brown of the buttered and caramelized chestnut is sensual and passionate. The wine might be expected to retract when it comes into contact with the caviar, but instead it responds openly to its unctuous sensuality and participates in this moment of emotion.

Duck consommé / Star anise / White pepper
Eggplant / Duck jus / White pepper
Whether sprinkled on the flavorful, flattering duck broth or the Fengyuan eggplant, the white pepper makes the wine vibrate at high frequency with scintillating flavors. It is followed by the concentrated richness and silky plum color of the eggplant with duck jus. We are now in the heart of darkness, where the wine becomes complex, serious and deep. Dom Pérignon Vintage 2004 reveals itself in all its grandeur.