Decanter Magazine January 2012
On sale: Wednesday 7 December 2011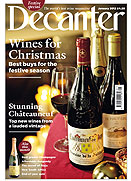 Best festive buys:Decanter's Mark O'Halleron and Christelle Guibert recommend their top drops under £25, perfect for entertaining this Christmas.
Chateauneuf-du-Pape 2009: 2009 isn't as safe a bet here as it is elsewhere in France, said our tasters, but there are still fantastic buys to be had.
Subscribe to Decanter this Christmas and save up to 44%
Interview: Anthony Barton: The genial owner of Léoville and Langoa-Barton chat with Margaret Rand about the family dynasty, his Irish roots and profits.
Grower Champagnes: Apart from a few issues with dosage, our experts were excited by the quality of wines that truly express their terroir.
South Africa's new guard: By striking out on their own, ambitious young guns are fast changing global opinions of Cape wine, says Matthew Jukes.
Burgundy for less: Margaret Rand sifts through the swathes of Bourgogne Rouge to find lush Pinot Noir of both quality and value.
Rioja: masters of oak: Andrew Jefford asks how this region succeeds more than others in integrating oak into its wines.