Don't use Coravin without protective sleeve, says US safety watchdog
coravin, wine preservation system, wine, bottle, sleeves, consumers, cpsc, watchdog, recall
News
Wine News
https://www.decanter.com/news/wine-news/587224/don-t-use-coravin-without-protective-sleeve-says-us-safety-watchdog
http://decanter.media.ipcdigital.co.uk/11150/000005fcd/15f5_orh100000w160/Coravin.jpg
http://decanter.media.ipcdigital.co.uk/11150/000005fcd/6019/Coravin.jpg
2014-06-27T11:24:00+01:00

Friday 27 June 2014
by

Chris Mercer
The US Consumer Product Safety Commission (CPSC) this week issued an official recall notice on Coravin in the US due to 'laceration hazard'. It told buyers to stop using the device immediately.

Its move comes around one month after Coravin Inc voluntarily reported to the watchdog that a small number of bottles had burst when put under pressure by the system, which uses a thin needle inserted into the cork to withdraw wine without opening the bottle.

Coravin has received 13 reports from consumers of bottles bursting to date. One buyer got two chipped teeth and a cut that required stitches, the CPSC said.

Rather than request all Coravin devices be returned, the CPSC has allowed the product's creators to swallow extra costs to produce protective neoprene sleeves to cover the 40,000 products sold in the US since they launched the system just over a year ago.

Consumers should not use Coravin until they have received one of the sleeves, the watchdog said.

'It's a substantial hit, but it's a small price to pay over the longer term,' Coravin developer Greg Lambrecht told Decanter.com when asked about the cost of producing the sleeves, which will be distributed from 8 July.

Coravin Inc also froze sales after reporting its problem to the CPSC a month ago, but Lambrecht said the firm remains in 'good shape' financially.

'The last thing we wanted to happen was for somebody to lose their wine,' said Lambrecht.

He reiterated that only a very small number of bottles are known to have burst so far. Those with problems tend to have existing weaknesses, such as from being dropped on the floor in the past, he said.

Coravin's product return rate has remained at less than 1% of sales since the problem emerged, Lambrecht added.

The group plans to expand sales in the UK and France later this year. Consumers there must currently order from the US website and pay in dollars.

---

Decanter to test Coravin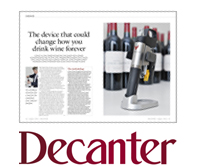 Decanter magazine is undertaking a year-long experiment with the Coravin device, in a tasting trial conducted by consultant editor Steven Spurrier.

The experiment will put the device through its paces in a number of scenarios, before delivering a final verdict in Decanter magazine in August 2015.

Look out for a full introduction to our Coravin experiment in the August 2014 issue of Decanter magazine, on sale 2 July 2014. Or subscribe now to reserve your copy.