Decanter Magazine March 2012
On sale: Wednesday 1 February 2012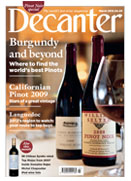 Beyound Burgundy: Benjamin Lewin MW on his quest to discover whether Pinot Noir achieves full complexity outside of the Cote d'Or.
Vintage Report: Californian Pinot 2009: Linda Murphy assesses the new vintage and shares her top picks.
Producer Profile: Domaine Dujac Stephen Brook speaks to Alec and Jeremy Seysses about family and the future.
Pinot Grigio: Ian d'Agata urges readers to shake off their preconceptions and seek out complex examples.
Understanding the Languedoc: Andrew Jefford shares his passion for the south of France, before Rosemary George MW guides us through seven of its most exciting areas.
Interview: Michel Chapoutier: John Livingstone-Learmonth speaks to the Rhone stalwart.
Wine goes wi-fi: Brian St Pierre charts the rise of the iPad restaurant wine list.
Chilean Syrah: 98 wines tasted, 0 Decanter Awards. No awards but the tasters were impressed by the myriad styles and clear potential of the Rhone grape here.
Rioja 2007: 117 wines tasted, 3 Decanter Awards. Judges praised this approachable vintage, particularly the reserva wines, but were more critical at crianza level.