Decanter Magazine April 2012
On sale: Wednesday 7 March 2012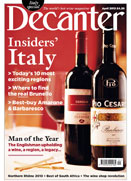 Unchartered Italy: Richard Baudains goes behind Amarone, Barolo and Chianti to reveal 10 original yet overlooked DOCs - from Carema to Cerasuolo.
The real Brunello: Kerin O'Keefe says the key issue facing Montalcino, and its diverse terroirs and wine styles, is the lack of official subzones.
Decanter Man of the Year: Paul Symington Andrew Jefford meets the head of this great Port family - a modest but influential leader of a team that has helped to make the Douro what it is toady.
Vintage report: Northern Rhone 2010: John Livingstone-Learmonth is impressed by this precise, fresh and balanced vintage.
Producer profile: Pio Cesare: Kerin O'Keefe visits the historic family winery in Piedmont and finds out why it is such a staunch supporter of blended wines.
Wine serving systems: Tina Gellie reports on 'the greatest innovation since the screwcap'. But is the try-before-you-buy approach all risk-free?
Barbaresco 2008 and Barbaresco riserva 2006: 96 wines tasted, 1 Decanter Award. The 2008s proved that even a tricky vintage can improve over time - as these will continue to do.
Amarone 2007 & 2008: 91 wines tasted, 8 Decanter Awards. These wines impressed, especially the classicos and '07s, but are they worth the premium over Valpolicella?
Expert's Choice: South Africa over £10: Nancy Gilchrist MW finds that for a little investment in Cape wines, you'll get plenty in return.