Decanter Magazine October 2012
On sale: Thursday 6 September 2012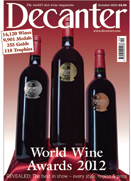 How we taste: The judging criteria explained.
How it works: Find out how a wine goes from being entered into the Awards to winning a medal or Trophy.
The Regional Chairs: The credentials of our 30 panel heads laid bare.
Chairman's report: Awards Chairman Steven Spurrier reflects on a record year of entries, and a few surprises.
International Trophies: The 28 wines that took the very top honours.
The results: All the Award-winning wines, listed region by region, plus profiles of all the trophy winners.
DWWA by numbers: Our at-a-glance guide to which grapes, styles, countries and producers fair best.
Shopping list: A handy list of medal-winning wines from UK supermarkets and high-street merchants.
Retailer Awards: The best UK-based wine retailers of 2012.
The week in pictures: Behind the scenes at the DWWA.
UK and US stockists: Where to buy your favourite medal winners.