Decanter Magazine January 2013
On sale: Tuesday 4 December 2012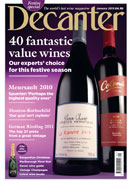 A Burgundian Christmas: Rosi Hanson joins in the family Christmas feast with the Roulot and de Montille clan in Meursault.
40 festive wines: Decanter's tasting team has chosen the best reds and whites under £20 for your seasonal celebrations.
Sweet wines: Natasha Hughes offers a handy guide to the main sweet wine styles, plus recommendations for each.
Regional profile: Lebanon: Wine has flourished here, despite a turbulent political history. Christina Pickard meets the leading producers.
Vintage report: German Riesling and Pinot Noir 2011: Was this one of the finest vintages for dry wines? Joel Payne gives his verdict and picks his top 21 grosses gewachs and Pinot Noirs.
Interview: Philippe Dhalluin: The director of Mouton-Rothschild tells Stephen Brook why he prefers the wines to the Bordeaux pomp.
Sponsored guide to Fruili: Discover Italy's leading white wine region.
Malborough Pinot Noir: 72 wines tasted, 0 Decanter Awards: A poor tasting, with our experts describing these wines as 'a work in progress'. Young vines and overoaking were the main issues.
Meursault premiers crus 2010: 85 wines tasted, 4 Decanter Awards: A great line-up that exceeded all expectation, with our judges praising the 'grand-cru-like quality' of the ripe yet racy wines.
Vintage Champagne 1992 & 1993: 52 wines tasted, 10 Decanter Awards: Champagnes disgorged earlier in their lives fared best, but both vintages were praised for standing the test of time.
Expert's Choice: 20-year-old Tawny Port: This popular style represents the 'apogee of tawny Port', says Richard Mayson, who selects 18 of his favourites.