Decanter Magazine: May 2013
On sale: Thursday 4 April 2013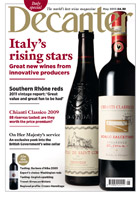 Italy's rising starts: Our three DWWA Regional Chairs for Italy have chosen four producers you may not have heard of yet but who are likely to be among the big names of the future.
Vintage report: 2011 Southern Rhone: Focus on the lesser-known appellations for affordable, approachable drinking while older vintages mature in your cellar, advises John Livingstone-Learmonth.
Producer profile: Ornellaia: Stephen Brook visits the iconic estate, where owners have changed but the opulent style of the Bordeaux blend has remained constant.
Regional profile: Crozes-Hermitage: This Northern Rhone region has always been good value but recent stellar vintages and dynamic growers mean it's more exciting than ever, finds James Lawther MW.
Campania: Italy's future Cote d'Or: Its three DOCG wines from rich and complex terroirs deserve more attention, says Tom Maresca – just don't tell Burgundy!
What's in the UK Government cellar? Chris Mercer discovers Latour 1961 among more modest bottles, and hears tales of Nelson Mandela's favourite tipple.
Chianti Classico Riserva 2009: 88 wines tasted: 1 Outstanding: Despite the hot vintage, these are balanced, drinkable wines, but is the riserva category really worth the price premium?
Barbera d'Alba 2010 and 2011: 123 wines tasted: 2 Outstanding: Barrique-aged wines scored best, as did the 2010 vintage, but those in the superior category didn't assert their status.
UK sparkling: 55 wines tasted: 0 Outstanding: No top-scoring examples, but our judges praised the consistent high-quality – particularly Chardonnay-dominant wines.
Expert's Choice: Washington: Stephen Brook finds the wines from this state less oaky, overt and extracted than California, with many ageworthy wines.
Travel: Etruscan Riviera: Luciana Lynch explores a stretch of the Maremma coast where SuperTuscans rub shoulders with ancient ruins.