Decanter Magazine February 2012
On sale: Wednesday 4 January 2012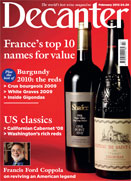 France: reeling in the rewards: Andrew Jefford reveals his pick of the top 10 producers in France who consistently overdeliver on quality and value.
Vintage preview: Red Burgundy 2010: Sarah Marsh MW assesses one of the region's more difficult, and potentially expensive vintages, and picks the best reds.
Regional profile: Gigondas: The Southern Rhone appellation is finally achieving recognition, about time says John Livingstone-Learmonth.
Producer profile: Inglenook: Celebrated film director Francis Ford Coppola has achieved his dream of bringing the historic Napa estate back to life, writes Adam Lechmere.
Washington Cabernet & Merlot: It's worth taking a closer look at Washington State's Bordeaux blends, says Stephen Brook.
Interview: Jacopo Biondi Santi: Margaret Rand talks to the Montalcino winemaker about difficult family ties.
Crus bourgeois 2009: 182 wines tasted, 1 Decanter Award. A great vintage in Bordeaux and despite only one Award, one that impressed the tasters overall.
Californian Cabernet Sauvignons 2008: 132 wines tasted, 4 Decanter Awards. Delicious wines from a difficult vintage - tasters found fewer high-alcohol wines than in previous years.