Decanter Magazine March 2013
On sale: Monday 4 February 2013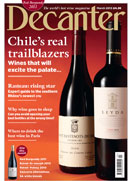 Chile's new-wave winemakers: Peter Richards MW meets 10 brave men and women who are blazing an exciting and refreshing trail, proving that Chilean wine is anything but cheap and dull.
Vintage preview: red Burgundy 2011: This challenging vintage has given inconsistent wines, so there's more reason than ever to head expert advice, says Jeannie Cho Lee MW.

Interview: Richard Geoffroy: Mr Dom Perignon did his best to shrug off his family's Champagne heritage before destiny caught up with him. Margaret Rand reports.
Regional profile: Rasteau: The reds now have cru status, but are the wines and winemakers ready for the big league, asks John Livingstone-Learmonth.
Why your wine goes to sleep: How do you predict when a wine will hit its dumb phase? Charles Curtis MW explains.
Cape white blends: Tina Gellie finds the buzz in South Africa is all about premium white blends.
Could you be a Master Sommelier? Matt Stamp MS explains why there are only 197 in the world who hold the title.
Volnay premier cru 2010: 65 wines tasted, 2 Outstanding: It's not one of the great vintages and there should have been more top scores, but nevertheless these wines are a good buy. Standards are high overall, and the wines show fine purity.
St-Joseph 2010: 63 wines tasted, 0 Outstanding: No superstars, but still a very positive tasting. Our experts feel there's 'something for everyone' in these forward, food-friendly wines, with the best mirroring Burgundy in their elegance.
Expert's Choice: Sancerre alternatives: There's more to the Central Loire than Sancerre, says Christelle Guibert, who selects 18 great value whites between £8 and £24.
Travel: Wine lover's guide to Paris: Parisian Patricia Courcoux Lepic provides a guide to the best new and established destinations in the city.