Decanter Magazine: April 2013
On sale: Friday 1 March 2013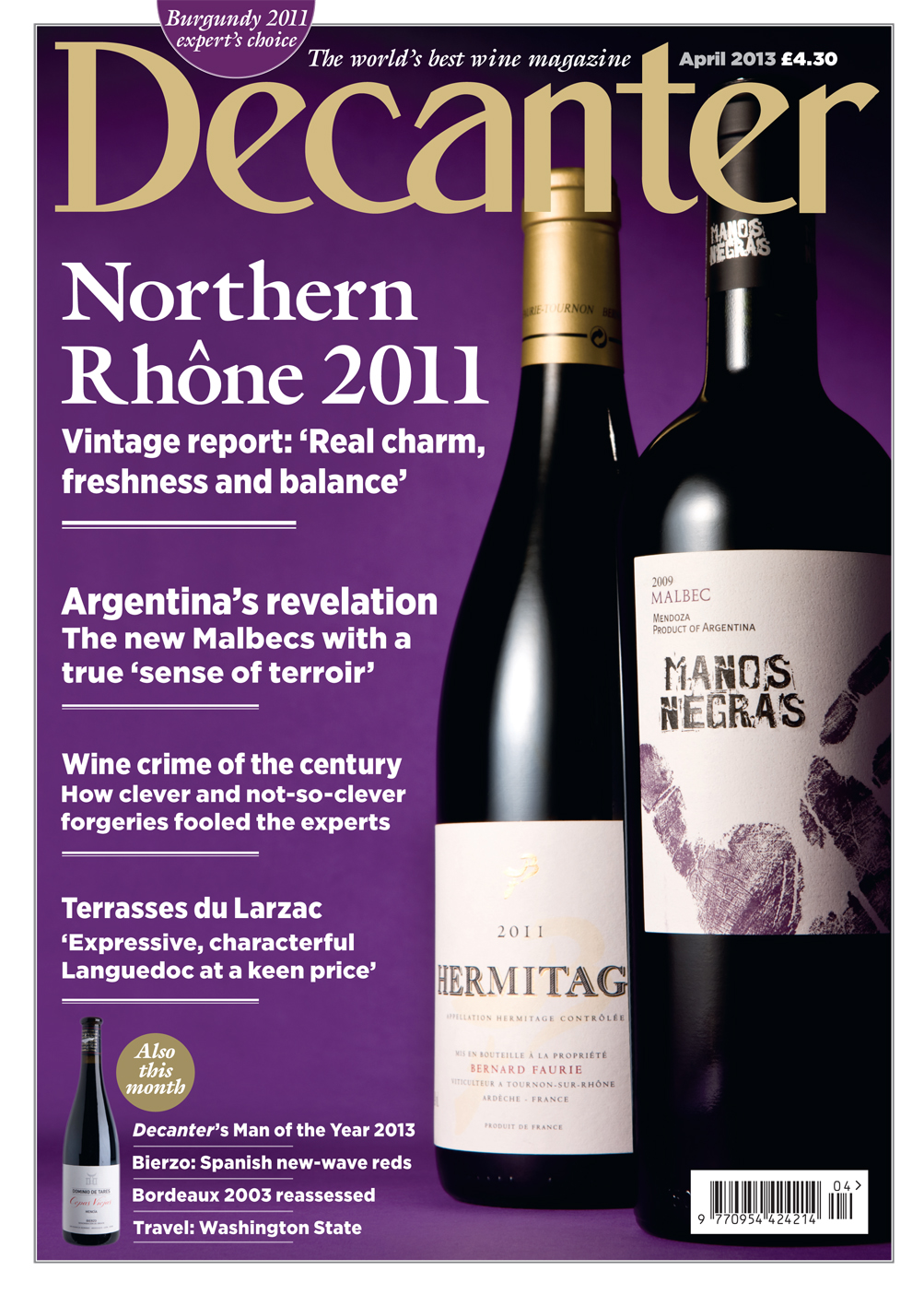 Fake wine:scandal of the century Mike Steinberger delves deeper into the Rudy Kurniawan fraud allegations and looks at the impact it has had on the wine industry.
Vintage report: 2011 Northern Rhóne This cooler vintage has given approachable wines of charm, from versatile whites to fruity reds, finds John Livingstone-Learmonth.
Mapping Mendoza Argentina's winemakers are focusing on more terroir-driven wines that reflect specific sub-regions and sites, says Christelle Guibert.
St-Emilion: here we go again...Six months on from the unveiling of the region's 2012 classification, the lawyers are sharpening their pencils.
Decanter Man of the Year: Gerard Basset He's an OBE, MW, MS and Best Sommelier in the World. Brian St Pierre meets him.
Regional profile: Terrasses du Larzac James Lawther MW visits a part of the Languedoc where unique yet reserved reds are emerging from the garrigue.
Wine into water Sarah Kemp visits Zambia to see how Decanter is helping the WaterAid charity there.
Bierzo reds: 69 wines tasted, 2 Outstanding: A great showing in Decanter's first Bierzo panel tasting, from both established and up-and-coming producers of the Mencia grape in this young, north-western Spanish appellation.
Medoc CC & St-Emilion 1GCC 2003: 63 wines tasted, 0 Outstanding: The criticism that this heatwave vintage received, 10 years on, from our panel was not wholly unexpected. 'Okay', 'sound' and 'drinkable' were descriptors reserved only for the best wines.
Expert's Choice: value Burgundy 2011 Jeannie Cho Lee MW has picked 18 wines that will evolve well over the medium term, in a vintage with charm and upfront appeal.
Travel: Washington: In the state's east, Paul Gregutt finds superb festivals, and dining and touring options in the Walla Walla AVA.