Decanter Magazine: June 2013
On sale: Friday 3 May 2013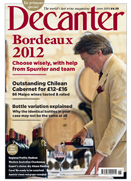 Bordeaux 2012: Decanter's expert team Steven Spurrier, James Lawther MW and Jeannie Cho Lee MW report from the en primeur tastings.
Interview Alfred Tesseron: Margaret Rand meets the down-to-earth producer making biodynamic wines at Chateau Pontet-Canet.
Producer profile: d'Arenberg: In McLaren Vale, this century-old business offers some of the best value in Australia, says Tim Atkin MW.
Regional Profile: Madiran: Paul Strang discovers this once-forgotten part of the southwest France now has more modern styles that are really worth a try.
< strong>Costly Cavas: To appreciate the joy of Champagne, Margaret Rand visits three producers whose Spanish fizz is terroir driven, and anything but cheap.
Bottle variation: No matter how carefully you care for your cellar, wine can still age unpredictable, says Richard Hemming.
Austria's red heart: It might not be easy to grow, but Blaufrankisch is Austria's most expressive red grape. Stephen Brook takes a tour of the regions.
Maipo Cabernet Sauvignon: 66 wines tasted, 2 Outstanding. The best bottles from this line up were solely or predominately Cabernet, and 2011 was the standout vintage, as were those wines with controlled alcohols.
Western Australian Chardonnay: 80 wines tasted, 3 Outstanding. A run of six find vintages, the reliability of screwcaps and efforts by winemakers to refine their wines all combined to demonstrate how far this state's Chardonnay has come.
Expert's Choice: Dry Alsace Riesling: Confusion over labelling has put consumers off in the past. Here Stephen Brook picks out dry Rieslings that won't disappoint.
Restaurants: Brian St Pierre visits Drake's of Ripley and Bristol's Flinty Red.
Travel: Maconnais, Burgundy: Sue Style discovers the passion of small-scale winemakers around Macon's historic centre.