A tasting of Morris wines
morris wines, rutherglen wines, nick blair, morris wines australia, durif wine tasting, durif wines, muscat wine tasting, muscat tasting, tokay tasting, australian tokay, australian muscat, australian durif,
People & Places
Articles
http://www.decanter.com/people-and-places/wine-articles/583915/a-tasting-of-morris-wines
http://decanter.media.ipcdigital.co.uk/11150/000005ad0/860f_orh100000w160/morris.jpg
http://decanter.media.ipcdigital.co.uk/11150/000005ad0/d9c6/morris.jpg
2013-05-21T11:51:00+01:00

Tuesday 21 May 2013
by

Decanter
You'd expect some pretty remarkable wines to come out of a town like Rutherglen, writes Margaret Rand. It looks too good to be true: a living, breathing relic of Ye Olde Australia, all verandahs and tin roofs.
And, in the case of Morris Wines, dirt floors. Charles Hughes Morris, son of the George Francis Morris who arrived in Rutherglen lured by the gold rush and who decided that selling supplies to the prospectors was a better prospect than prospecting, built the winery with the money he got from selling a favourite horse. You don't build a flashy winery with the price of a horse. And besides, a dirt floor seems to regulate humidity in the winery rather nicely.
George Francis had founded Morris Wines in 1859 and to begin with made fortifieds; it still does make fortifieds, and director Nick Blair visited Decanter's tasting room with some Liqueur Muscats and Tokays (Morris will start using Tokay's new official name, Topaque, next year). He also brought some Durif table wines, which are every bit as individual as the fortifieds. Durif is a grape that was propagated in the 1880s and planted in the south of France because of its resistance to downy mildew, but it was never, to be honest, regarded as anything more than a source of rustic red for the working population. France hardly grows it now. California does, under the name of Petite Sirah; and so does Morris Wines of Rutherglen. These bottles, going back to 1988, demonstrated that while Durif is not complex, it can nevertheless improve with age. Rustic? Yes, but well brought-up. It's hairy, but it went to school. It's those contradictions that make it interesting.
See Margaret Rand's tasting notes and scores of the Durif wines and Fortifieds below: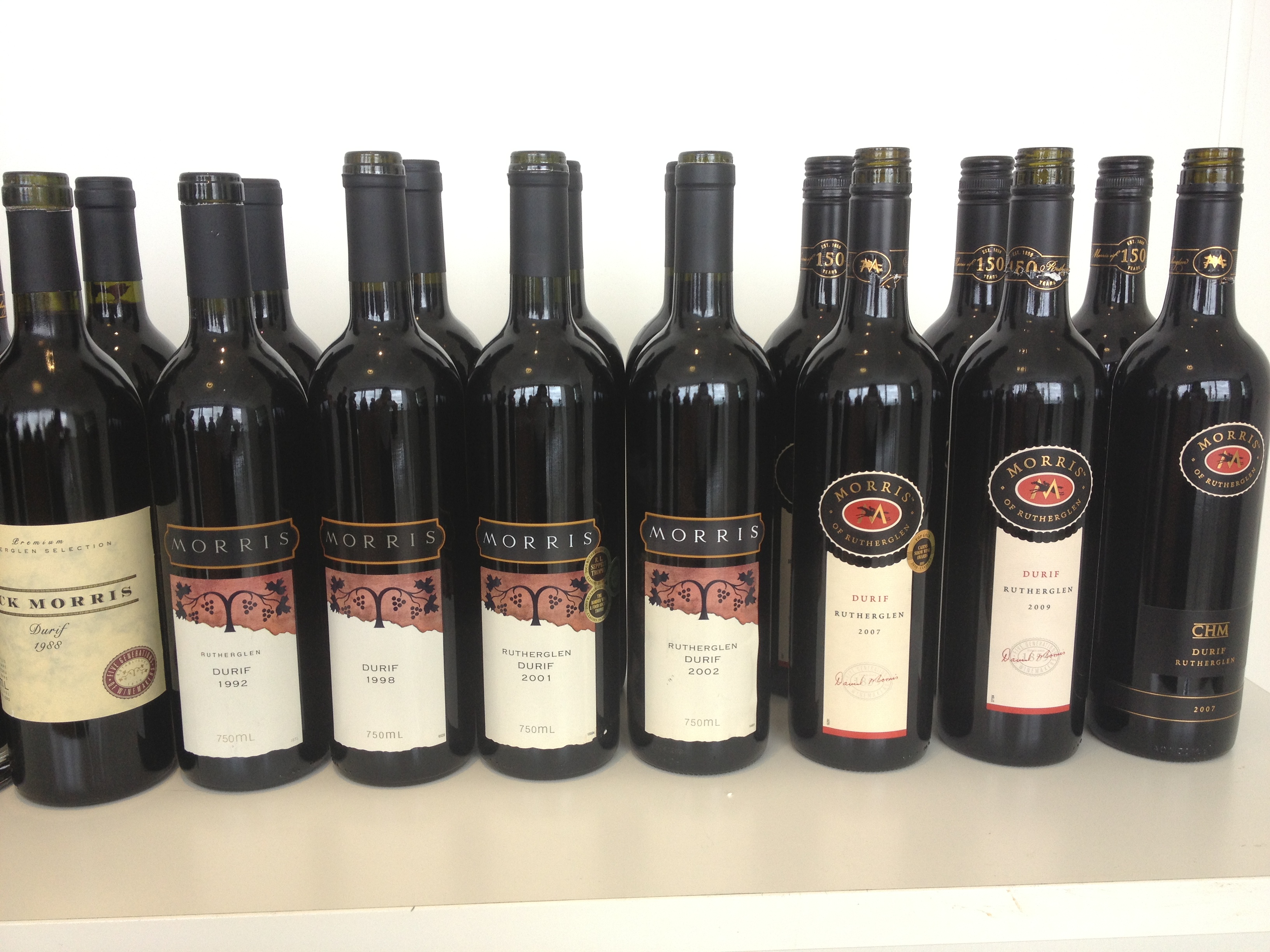 Mick Morris Durif 1988
The colour is still dark and vibrant; the palate is remarkably silky and sleek, with flavours of beef jus, leather, roasted fruit. It's a bit like Amarone without the baked cherries: it has that rich silkiness. High acidity, very harmonious, still young and fresh. 17.5pts/20 (91/100pts)
Drink: Now-2025
Alc: 15.1%
Rutherglen Durif 1992
Lovely texture again, roasted fruit, intense and energetic, and very well balanced. High acidity and great concentration, and a very long finish. 17.5pts/20 (91/100pts)
Drink: Now-2030
Alc: 13.5%
Rutherglen Durif 1998
Nose of coal smoke, tar and black fruit. Lots of acidity on the palate. It's feral and, okay, a bit bretty, but delicious with it, wild and silky. Tannins still have a bit of grip. Very long. 18pts/20 (93/100pts)
Drink: Now-2035
Alc: 14%
Rutherglen Durif 2001
Roasted sweet fruit, and aromatic with cherries and savoury notes; tar and smoke, with very good acidity. The finish is very slightly hot. 17.5pts/20 (91/100pts)
Now-2035
Alc: 14%
Rutherglen Durif 2002
Bright and intense; a bit broader in feel, still that silkiness, and with a note of greenness to add to the freshness. 17.5pts/20 (91/100pts)
Drink: Now-2035
Alc: 14%
Rutherglen Durif 2007
A big change in colour: this is deep ruby-black. Palate is intense and balanced, with high acidity, vibrant with plums, damsons, blackberries. An extraordinary contradiction between the polished, sleek exterior and the intrinsic lack of finesse of the grape. Usually that wouldn't work, but here it does. 18pts/20 (93/100pts)
Drink: Now-2040
Alc: 14.5%

Rutherglen Durif 2009
A touch of honey and lime blossom on the nose, and deep curranty fruit on the palate. Roasted, with some coconut oak showing: this is a more showy, international style than the others. Very good finish. 17pts/20 (90/100pts)
Drink: Now-2040
Alc: 15.1%
CHM 2007
CHM is, of course, Charles Henry Morris; this wine is from a single block, with the best bunches selected. Very deep and rich and roasted, with a lovely expressive finish; a tense, taut yet muscular wine. Very individual. 18.5pts/20 (95/100pts)
Drink: Now-2050
Alc: 15%
Fortifieds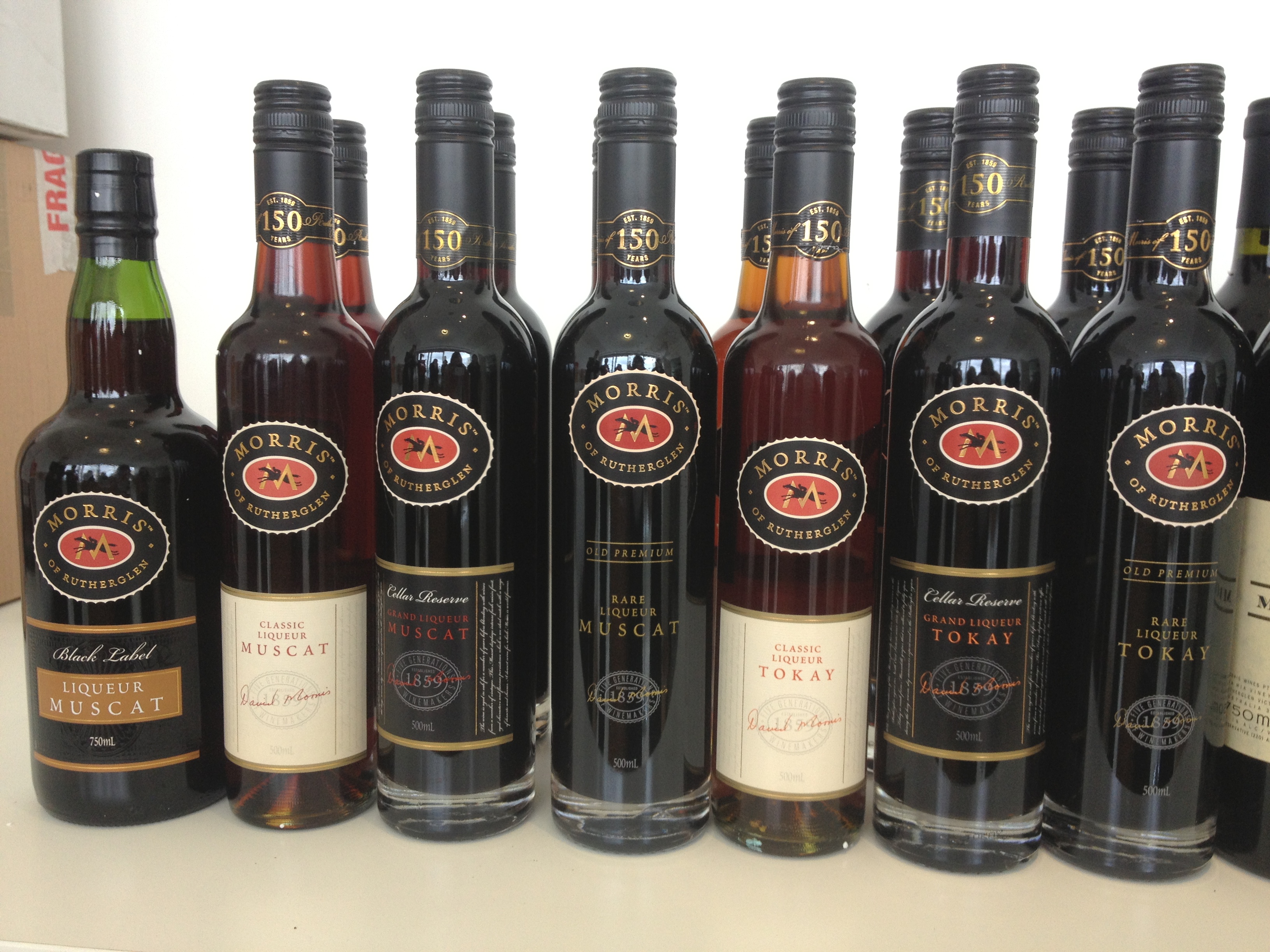 Rutherglen Liqueur Muscat
Tea and roses on the nose, intense roses and balsamic notes. Rich but fresh, syrupy texture but good acidity, all fudge and balsamic flavours, with tea emerging again on the very long finish. 17.5pts/20 (91/100pts)
Drink: Now-2050
Alc: 17.5%
Classic Liqueur Muscat
Coffee, chocolate and rosemary aromas; fudge again on the palate, with coffee liqueur and floral, herbal notes. Very long. 18pts/20 (93/100pts)
Drink: Now-2050
Alc: 18%
Cellar Reserve Grand Liqueur Muscat
Black, espresso flavours, fresh acidity, bitter black chocolate with the fruitiness of good black chocolate. Concentrated balsamic notes. 19/20pts (96/100pts)
Drink: Now-2060
Alc: 17%
Old Premium Rare Liqueur Muscat
Dark brown colour with daffodil-yellow rim. Very thick in the mouth, black flavours, beyond fruit or chocolate flavours, though some very intense mocha and espresso. Far more difficult to describe than the others because it's so tight and tightly woven, so harmonious. Garrigue herbs, even a touch of peach, too. Powerful, sweet, almost medicinal. Probably less approachable than the previous wine, but incredible. 19.5/20pts (99/100pts)
Drink: Now-eternity
Alc: 17%
Classic Liqueur Tokay
Roasted apricot and thyme nose; burnt brown sugar too. Toffee and caramel on the palate, burnt butter, very concentrated, lovely sleek salted caramel, herbal and very long. 17.5pts/20 (91/100pts)
Drink: Now-2050
Alc: 17.5%
Cellar Reserve Grand Liqueur Tokay
Apricots and salted caramels again, toast and butter; very buttery. Wild herbs, very concentrated and silky, with a touch of lime cordial on the finish. 18pts/20 (93/100pts)
Drink: Now- 2050
Alc: 17%
Rare Liqueur Tokay
Dark brown colour with burnt yellow rim. Chocolate raisins and good acidity: piercing acidity under a thick blanket of richness. A feeling of pointed acidity and intense sweetness, layer on layer. Explosive finish. 18.5pts/20 (95/100pts)
Drink: Now-eternity
Alc: 18%