Chile and Argentina: Going to extremes
Chile and Argentina. Chile, Argentina, Extreme winemaking, Chile Extreme winemaking, Argentina Extreme winemaking,
People & Places
Articles
http://www.decanter.com/people-and-places/wine-articles/587136/chile-and-argentina-going-to-extremes
http://decanter.media.ipcdigital.co.uk/11150/000008584/3690_orh100000w160/EDIT-Finca-Las-Palmas-2.jpg
http://decanter.media.ipcdigital.co.uk/11150/000008584/44b4/EDIT-Finca-Las-Palmas-2.jpg
2014-06-13T10:00:00+01:00

Friday 13 June 2014
by

Patricio Tapia
Quick links:

If in the past, most of Argentina's viticulture was based on Andean altitude and, at the same time, that of Chile centred on the cold influence of the sea, nowadays those roles have flipped. Little by little, fascinating new vineyards are appearing in the Chilean Andes and other no-less-extraordinary projects are showing up on the Atlantic coast of Argentina. South American wine is taking new risks and gaining new flavours.
At 2,000m in the Alcohuaz sector of the Chilean Elqui Valley, it seems that nature has never been tamed. thorn trees dot the rocky soil and the silhouette of the mountains cuts across an intense blue sky. I am told there are foxes and hares here, and that it is common to see condors flying over the peaks; with a wingspan exceeding three metres, these are the flying giants of the Andes.
It was here, 400km north of Santiago, that Alvaro Flaño began to plant vineyards. there were vineyards down in the valley – especially of grapes destined for pisco (the Andean brandy) – but no one had planted so high, at the end of the valley, this close to the Argentinian border.
Flaño began to buy land in Elqui in the mid-1990s. But it wasn't until 2005 that he decided to risk growing wine grapes. 'Our logic was that if pisco grapes grew well and were so aromatic in this sunny, dry climate, wine varieties would probably show good results, too,' says his son Patricio, who now runs the Viñedos de Alcohuaz project.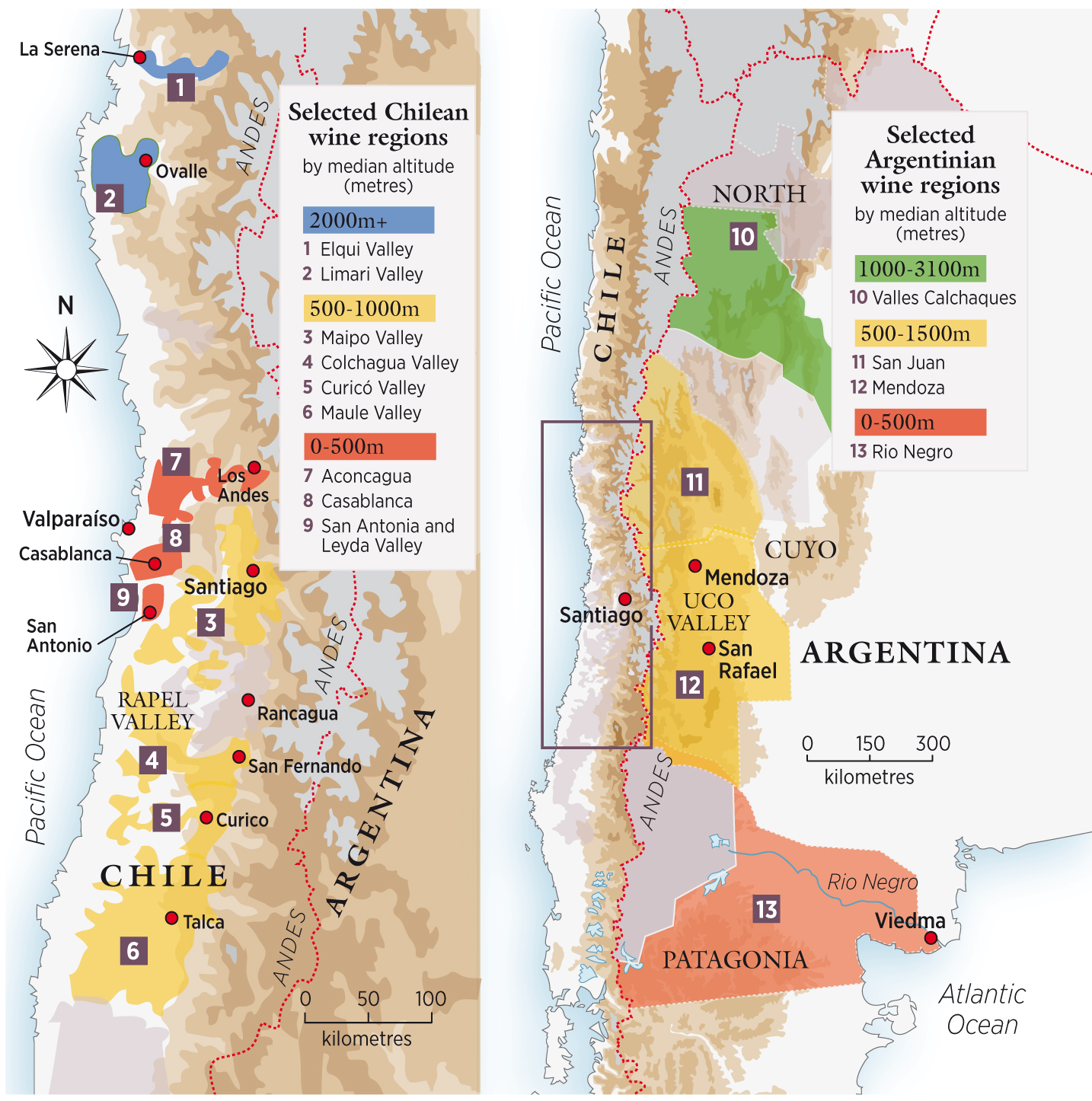 Of course, not all varieties grew well at altitude, on soils with extremely low fertility and in a climate that locals claim has 60 cloudy days, five rainy days, and 300 days of sun. 'There was too much sun for Merlot and Cabernet Franc, and they dehydrated,'Patricio says.
However, other varieties more accustomed to sun, such as Syrah and Carignan, grew very well. In the beginning, in 2007, De Martino bought Syrah. A year later, those grapes went into the Alto Los Toros Single Vineyard, a Syrah planted nearly 2,000m up RAPEL and one of the stars of the De Martino portfolio made by the winemaker Marcelo Retamal.
Syrah is also the main ingredient in the first wine from Viñedos Alcohuaz, a 2011 red that is nearly 100% from Alto Los Toros. It is delicious, with lively black fruit flavours, creamy on the palate, its ripeness in harmony with a marked acidity.
This Syrah was made by Retamal, who became a partner in the project in 2007, and took charge of making the wines. He expects it to hit the market in late 2014, though Patricio Flaño adds that they are in no hurry – if they feel the wine needs more time, they will wait.
They built the cellar – burrowed into a cave in the middle of the mountain – with the same sense of calm. 'No rush, it will be ready when it's ready,' says Flaño as we venture inside. They also built lagares from local rocks to soften the grapes better during pressing by foot. Retamal says that because the grapes develop very thick skins to protect them from the sun, softening these tough skins is important. He says the sun is the key here. 'My hypothesis is that in high-altitude zones, the soil is less important than the weather,' he explains as he pours a sample of the 2012 Carignan from the property's highest vineyard at 2,200m. 'You need to protect the grapes from the sun. There is almost no disease because the air is so dry, but you still need a balanced vineyard so that the flavours don't burn.' Once again, there is that freshness adorned with spices and pure, ripe red fruit.
Sun was also a concern for Felipe Müller, the winemaker at Viña Tabalí, when they decided to climb to the heights of the Río Hurtado, 1,800m above sea level in the Limarí Valley.
After driving for several hours along the winding roads that follow the course of the Río Hurtado towards the Andes, we finally arrive at a spot where the river basin seems to widen. It is almost sunset, and a flock of parrots flies beside us, as if to welcome us. The gentle Andean hillsides dip down toward the river against a backdrop of the mountain with its snowy peak glowing in the sun's last rays.
Tabalí bought this property, some 350km north of Santiago, in 2010, planning to plant walnuts. Müller and Tabalí's viticulturist Hector Rojas, however, thought it would be a good opportunity to diversify their terroirs in Limarí. 'At the time, we had vineyards very close to the coast in Talinay, as well as in the intermediate sector, such as in the Valle del Encanto, where the winery is located, but we still hadn't climbed the mountain,' says Müller.
So they climbed it. In 2011, they planted eight experimental hectares to 11 varieties, including Merlot, Carignan, Malbec, Petite Sirah, Cabernet Franc, Syrah and even Carmenere. The first harvest was this year. 'It's too early to draw conclusions,' says Müller. 'My major concern was that the fruit would burn, leaving us with overripe flavours, but that wasn't the case.'
The sun is just as intense here as it is in Elqui, but the difference is that this small vineyard is entirely east-facing – the sun sets early and leaves the vineyard in the shade for much of the afternoon, refreshing the flavours of the grapes.
This may be the reason that the Malbec from these infant vines has such a level of fruit, such intensity and, perhaps, such freshness – qualities that I had never seen in Chilean Malbec, only in some Malbecs from the highest zones of Mendoza.
For now, Malbec is one of the stars of the vineyard, although Cabernet Sauvignon and Carmenere have also yielded good wines with concentration and strength. His dream is to make a wine from this vineyard, blending all the most successful varieties.
If that dream were to come true, we will be able to add a new face to the diversity of Chilean wine, a face that comes from the unthinkable heights of the Andes, a place that has barely been exploited so far in Chilean viticulture.
Maritime Argentina
Early autumn is a good time to visit Viedma, on the banks of the Río Negro in Argentinian Patagonia, nearly 1,000km south of Buenos Aires. It is at this time of year that the potbellied silversides come to spawn along the Atlantic coast, some 30km from where Bodega Océano, the only winery in this maritime zone, has its vineyards.
Bodega owner Juan Lascano describes the fish enthusiastically. He speaks of their oily texture and intense flavour, and the fact that they only need to be breaded and fried in very hot oil – before being served with one of his wines, of course.
Juan and his brother Jorge are sons of Italian and Spanish immigrants. Their father arrived in the region in the mid-1950s, building roads when Patagonia was even more desolate and uninhabited than it is nowadays. The brothers were born in Viedma, the capital of Río Negro Province and worked in their father's bread factory until 1998, when they decided to try planting vines. They opted for land along the river, close to the sea.
'The soils here are very uneven. Both the river and the winds drag matter toward the sea, leaving some spots rocky and others sandy. Both have worked very well with red varieties such as Malbec, Merlot and Cabernet, as well as with whites such as Sauvignon Blanc,' says Lascano.
Despite being so far south, Viedma is not a rainy zone (360mm per year). Neither is it particularly cold (Lascano calculates that the harvest date for Malbec is more or less the same as in Mendoza), but it does stand out for its maritime influence, which gives rise to fog in the summer mornings and calms the hot winds that come from the east.
It is likely to be this influence that make the reds from Océano seem so fresh in the context of Argentina. 'All the varieties we have, including Pinot Noir, yield well-balanced grapes and we never have to correct the acidity,' says Lascano, referring to a practice common in drier and hotter zones such as Mendoza.
Their Gran Reserva 2008, a blend of Malbec, Merlot and Cabernet, has a strong sense of place – pure crisp and lively fruit, freshness and zingy acidity. I'd happily drink this with those breaded silversides, watching the Río Negro glide toward the sea.
Some 700km north of Viedma, is Mar del Plata, and just 3km from the sea lie the Argentinian vineyards growing closest to the coast, a small, 4ha (hectare) block planted by the giant Trapiche and Jorge Estrada, a local landowner. The site is called Chapadmalal. Daniel Pi, head winemaker at Trapiche, tells me that Estrada also owns vineyards in Mendoza, and that Trapiche has managed them for years. But in 2009, they met in Chapadmalal and began to wonder what it would be like to make wines there, in what must be Argentina's most extreme zone for wine.
'It rains a lot, and the sea is very cold. I reckon the water temperature doesn't rise above 16oC in the summer,' says Pi. Taking these conditions into account, they decided to plant varieties that adapt well to cold, such as Pinot Noir, Chardonnay and Sauvignon Blanc. If the grapes didn't ripen enough for still wines, they calculated, they could be used for sparkling. But that wasn't necessary.
The first harvest in 2012 proved that although the harvest was even later than in Mendoza's highest zones, the wines could still reach excellent balance. The Chardonnay, for example, was picked two weeks later than those in the Los Árboles zone of the Uco Valley (1,200m above sea level), and yet the wine was nearly two degrees lower in alcohol.
That was the good news. The bad news was that because they had no winery, they had to transport the fruit nearly 1,500km to Trapiche in Mendoza, and many grapes were damaged. 'So we decided to build a cellar here in Chapadmalal. We vinified here in 2013 and the results are amazing,' Pi says.
I was able to taste the first vintage, and the 2012 Pinot Noir offered electric and refreshing flavours which I had never come across in Argentina. And they come precisely from an Argentina that nobody knows, one that is discovering itself in a territory so vast and varied that it may contain many other Viedmas, dozens of other Mar del Platas. Thanks to these and other projects, the up-and-coming Argentina will be quite different from today.
This article has more pages:
1. Chile and Argentina: Going to extremes